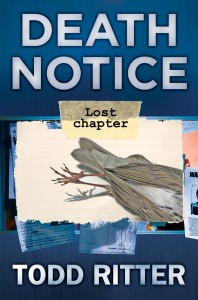 Hey folks who have read DEATH NOTICE, this post is for you. If you haven't read it: First, what are you waiting for? Second, you might want to skip this post, since there are slight spoilers below.
(Spoiler line: Cross at your own risk.)
OK, if you're still reading, I assume you've also read DEATH NOTICE. And I bet you're also wondering what really went down in Amber Lefferts' house before Chief Kat Campbell arrived. If so, you're in luck. I've unearthed a lost chapter, showing readers the creepy events of that afternoon from poor Amber's point of view. Cool, right?
Even cooler is that I'm giving readers like you a copy. All you need to do is write a review of DEATH NOTICE on Amazon.com or at the Barnes & Noble website. Then just notify me via e-mail at todd@toddritteronline.com. I'll then promptly send you the chapter. If you've already been nice enough to write one, just give me a shout and I'll send it to you, as well.
It's that easy.