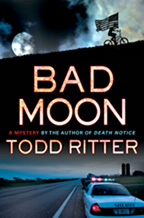 Although my second book, BAD MOON, doesn't hit stores until October 11, I've got an advance copy to give away.
Here's how I'm going to do it: Next Friday, I'll put the names of everyone who follows my Facebook page into a hat and randomly pick one. Don't follow me on Facebook? You can do it right here.
I'll announce the winner in this very spot next Friday. Good luck to all who are eligible.