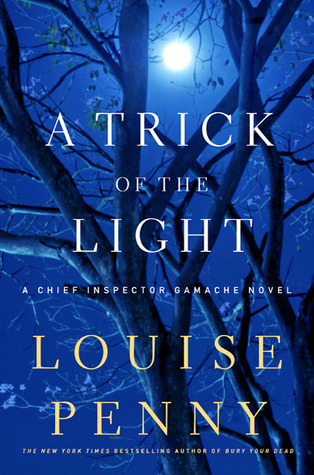 I am thrilled beyond words to welcome one of my favorite writers, Louise Penny, whose Armand Gamache mysteries have appeared on bestseller lists worldwide.  Her last book, BURY YOUR DEAD, won the Ellis for best mystery in Canada, and is nominated for the Anthony, Barry, Macavity and Nero awards in the United States.  Her next book, A TRICK OF THE LIGHT, will be released tomorrow.  You can visit her website at www.louisepenny.com.
Q. Tell us about your book and what inspired you to write it. 
A TRICK OF THE LIGHT is the seventh in the Armand Gamache series. And while it (like all the rest) is clearly a murder mystery, it is in reality more about life than death. One of the continuing series characters, Clara Morrow, finally gets her solo art show, and we get to see how she, and those close to her, react.  And whether the art world will embrace or shun her. This book, though, really explores the role hope plays in the lives of the characters, including the police officers, Gamache and Beauvoir.  And the difference between real and false hope. It's also about duality — the gap between how things appear and what they really are.
Q. Did you need to do any special research for the book? If so, what's one of the most interesting facts you discovered?
Before starting to write this book, I'd never the term "chiaroscuro." It's an artistic term meaning the strong contrast between light and dark. It was by pure chance I stumbled across this while researching the art world, since this book has so much about art and the artistic temperament. It, of course, then became a central theme … that duality again — between light and dark. In art and in life.
Q. Many people are content to just be readers. How did you become a writer?
I've wanted to be one since the age of 8, when I fell in love with Charlotte and Wilbur and the other animals in CHARLOTTE'S WEB.  How marvelous to get to create imaginary friends, then play with them all day, and as a writer, get paid for it.  Though I'm not necessarily the best friend since I sometimes kill one (or two) off.  Shhh.
Q. What do you like to do when you're not writing?
It feels like I'm always writing … or thinking about it. But I love my home — I'm a nester, and I sometimes think the farther from my bed I get the odder I become. So I love to hang around home with my beloved Michael and our puppy Trudy. Going for walks, reading, sitting by the fireplace. Gardening a bit in summer. I also, perversely, love to travel — but to select places.  London, for instance, is like a second home.
Q. What are you reading right now? 
An Agatha Christie — ONE, TWO, BUCKLE MY SHOE.  I've read it before, but I'm just finishing writing the 8th book in the Gamache series and so I like to read something fun and not very challenging.  I adore Agatha Christie and am very aware of the role she played in my formative years.
Q. If you were stranded on that proverbial deserted island, what five books would you want to have with you?
Beyond the obvious "How to" books —
The complete works of W.H. Auden
A French/English dictionary (finally nail the subjunctive!!)
Complete works of Shakespeare
A history of music (with classical scores)
A collection of works of art
I realize I've cheated by making them collections or dictionaries — but I'd love to learn how to read music, then have scores, so that I could have symphonies in my head all day long.  And to study great works of art, and be transported by the divine.
Q. What's your favorite movie?
The Lion in Winter.
Q. What's your favorite food?
Fruit salad — for real.  I LOVE it.  My second favorite would be burgers, fries and shakes.
Q. Cats or dogs?
Dogs.
Q. Name one thing that people would be surprised to learn about you.
I am a saint. For real. I sent away to the Universal Life Church back when I was a journalist doing an expose on dodgy religions that get tax exemptions in Canada. For a fee, they'd make me an ordained minister — and for a little extra they'd declare me a saint. So I sprang for the extra and am now Saint Louise — patron saint of the extremely lazy.