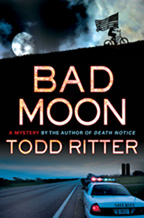 It's time to give away an advance copy of BAD MOON. Last week, I said I was going to put all the names of those who "like" my Facebook page into a hat and draw one at random.
I lied.
I actually put the names into a very large bowl. And all my Facebook friends were not eligible. To be fair to others, I left out family members and people I see on a daily basis. This giveaway was for fans only.
Still, that left a large pile of names to choose from. And the winner is….
Jamie Cotner Moretz!
Congrats, Jamie! You can send me your mailing address at todd@toddritteronline.com and I'll send you a copy of BAD MOON.
A big thanks to all of you who were eligible. There'll be more giveaways soon, so stay tuned.