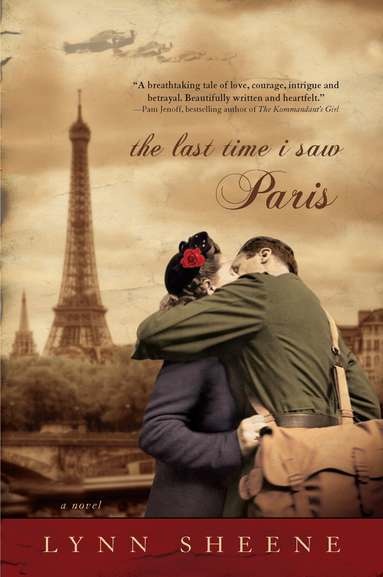 Today, I welcome Lynn Sheene, whose debut novel, THE LAST TIME I SAW PARIS, will be released on Tuesday. A graduate of UC Santa Barbara, Lynn lives in Southern California with her husband and dog. She is currently working on her next novel set in wartime France. You can visit her online at www.lynnsheene.com.
Q. Tell us about your book and what inspired you to write it.
THE LAST TIME I SAW PARIS is about a young Jazz-Age Manhattan socialite who heads to Paris to escape her secret past, only to find herself swept up in the danger and drama of the French Resistance.
I've loved Paris as well as the 1930's and 1940's for many years. Then about five years ago, I found a French Art Deco brooch and wondered about its past. As I began to dig into what was going on in France during the German Occupation, I was captivated by the intrigue, darkness and danger as well as the heroism and the beauty. I HAD to write a novel based in that era!
Q. Did you need to do any special research for the book? If so, what's one of the most interesting facts you discovered?
I've spent hours online, I've read stacks of memoirs and news accounts. But, of course, the best part of the research is France itself. I've gone to Paris a number of times for research. In fact, I recently returned from a month in Paris researching the second book. The trips are wonderful. Paris is, in a way, timeless, so I can walk the sidewalks, visit the parks, eat in the same cafes as people did 70 years ago. I visit archives and dig out old photos and maps. It is great fun and so easy to lose days searching for the smallest detail. But the best part are the surprises. What you see or hear that you weren't thinking of that you love so much that it becomes part of the story.
I have found so many interesting facts, to be honest, it would take a book to list them. What amazes me, though, are how so many of the Resistants in Paris were normal people like us. Not trained soldiers, they were men and women, students and writers, businessmen and homemakers. And yet they risked their lives day after day.
Q. Many people are content to just be readers. How did you become a writer?
I always loved stories and wanted to be a writer. When I was young, I wrote many short stories that never saw the light of day. In college, I studied screenwriting and wrote several screenplays, but realized that wasn't my best format and ran out of steam for a while. When THE LAST TIME I SAW PARIS sparked in my imagination, I was ready to write a novel, no matter what it took.
Q. What do you like to do when you're not writing?
I love to read (of course), travel, garden, watch old movies and contemplate what color to paint my office walls.
Q. What are you reading right now?
I am researching my current book, also based in German-occupied France, so I am working my way through a large pile of nonfiction specific to that story.
Q. If you were stranded on that proverbial deserted island, what five books would you want to have with you?
I can't even commit to an overnight stay with only five books! I would throw myself into a volcano (because my island would need a volcano) if I had only five things to read. However, in the hours before desperation overtook me, I would enjoy:
SUITE FRANCAISE — Irene Nemirovsky (because she was so talented and saw the world through writer's eyes, and because she died so tragically)
THE POLISH OFFICER — Alan Furst (because he is brilliant)
KINGDOM OF SHADOWS — Alan Furst  (ditto)
THE SECRET GARDEN — Frances Hodgson Burnett (because ever since I was nine years old, this book always makes me happy)
MY LIFE IN FRANCE — Julia Child (so I could dream of butter and chicken and potatoes and bread and…)
Q. What's your favorite movie?
Tough — It's a tossup between His Girl Friday and The Philadelphia Story — both Cary Grant, both 1940. I suppose that says something about why I write historical fiction set in the 1940's, doesn't it.
Q. What's your favorite food?
I could live on fresh French bread indefinitely. I could also happily drown in Thai coconut soup.
Q. Cats or dogs?
Dogs — specifically, Boris Von Woofiepants. We got him from a rescue three years ago. He is a terrier/basset hound mix, we think. And he is the most popular person, let alone dog, I've ever met. People honk and yell out his name when we walk down the street. Not my name. Boris. I now know what it must feel like to be part of someone's entourage.
Q. Name one thing that people would be surprised to learn about you.
When I lived in Northern California, I once swam from Alcatraz Island to San Francisco. My friend Gayle can talk me into just about anything!