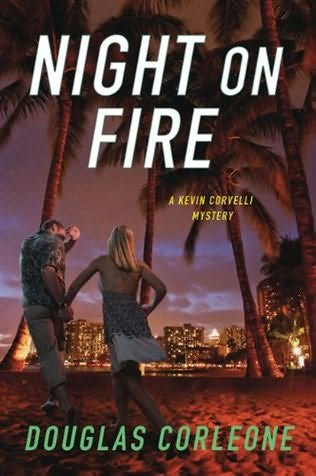 For the first official Wednesdays With entry, I welcome my friend DOUGLAS CORLEONE. Doug is the author of the Kevin Corvelli crime series, published by St. Martin's Minotaur. His debut novel, ONE MAN'S PARADISE, won the Minotaur Books/Mystery Writers of America First Crime Novel Award. A practicing attorney, Douglas divides his time between New York and Hawaii. His second Corvelli novel, NIGHT ON FIRE, will be released on Tuesday. You can visit him online at www.DouglasCorleone.com

Q. Tell us about your latest book and what inspired you to write it.
In NIGHT ON FIRE, hotshot Honolulu defense attorney Kevin Corvelli narrowly escapes a deadly arson fire at a popular Hawaiian beach resort only to land the prime suspect — a stunning but troubled young bride — as a client. NIGHT ON FIRE is the follow-up to my debut novel, ONE MAN'S PARADISE, which was released last year. The idea for the second Kevin Corvelli novel was inspired by an event from my past. When I was a child on vacation in Canada, I woke late one night to the sound of a fire alarm. The hotel was being evacuated and I was terrified. There was a blaze a few floors below us and smoke was seeping into the stairwell as we bounded down the steps. Ultimately, no one was injured, but it was an incident I'll never forget.
Q. Did you need to do any special research for the book? If so, what's one of the most interesting facts you discovered?
For NIGHT ON FIRE, I had to research arson investigation. The most interesting fact I discovered was how fire investigators determine a blaze's point of origin. They search for a V-shaped burn pattern — that's the point of origin, where the fire burned hottest and did the most damage.
Q. Many people are content to just be readers. How did you become a writer?
I wanted to be a writer since reading the Hardy Boys mysteries as a kid. But I didn't get serious about it until a few years ago when I was able to take a time-out from practicing law. Living in Hawaii was a great inspiration.
Q. What do you like to do when you're not writing?
I love the ocean — it's one of the many reasons I live in Hawaii. I enjoy swimming, snorkeling, kayaking, and just about anything else that gets me in the water.
Q. What are you reading right now?
I'm currently reading THE FIFTH WITNESS by Michael Connelly, and I'm looking forward to Steve Martini's TRADER OF SECRETS next month.
Q. If you were stranded on that proverbial deserted island, what five books would you want to have with you?
AMERICAN PSYCHO by Bret Easton Ellis
WOMEN by Charles Bukowski
THE LONG GOODBYE by Raymond Chandler
PORNO by Irvine Welsh
IMAJICA by Clive Barker
Q. What's your favorite movie?
Sexy Beast with Ben Kingsley.
Q. What's your favorite food?
New York-style pizza.
Q. Cats or dogs?
Both. We have three cats, one of whom (Grey Skies) makes an appearance in the Kevin Corvelli novels. But I have a 20-month-old son named Jack, and I can't wait to get him his first puppy, because I've always wanted a dog.
Q. Name one thing that people would be surprised to learn about you.
Steve-O from Jackass once poured half a bottle of Jose Cuervo down my throat at a show in New Brunswick, New Jersey.