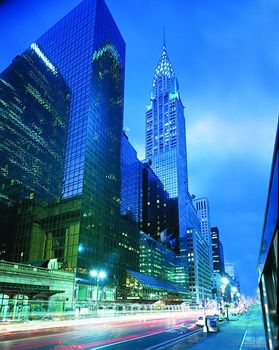 I returned yesterday from Thrillerfest, a multi-day extravaganza of books, writers, panels and sleep deprivation held every year at the Grand Hyatt in New York City.
If you're a fan of mysteries and thrillers, I recommend you go at least once. You'll get the chance to meet many of your favorite authors, hear them talk about the writing process, have them sign books and even be crammed into an elevator with some of them.
If you've written a mystery or thriller, then you absolutely must go. Not only will you learn things from the pros, but you'll get to meet fellow authors, both legendary and just starting out. Writing is a very solitary act — full of frustration, disappointment and much beating of foreheads against battered keyboards — so it's extremely fun to spend a few days chatting with people who know what you're going through.
Since Thrillerfest lasts several days and has so much going on, it's impossible for two people to have the same experience. So I'm not even going to try to write about my two days there and pretend it's indicative of the entire Thrillerfest experience. It's not. These are simply brief snapshots about my time there.
WAKE-UP CALL: I wasn't going to stay at the Grand Hyatt. I live in New Jersey, an hour or so train ride from Manhattan. My goal was to get up at 5 a.m. both mornings, catch the 6:30 a.m. train and return the same way once my Thrillerfest day was done. That lasted until about 5:45 the first morning, when I realized I'd never be able to function that early two days in a row. So I booked a room by 6 a.m., packed by 6:30 and was on the road at 6:45.
A ROOM WITH A VIEW: My room had an amazing view of the statues that grace the entrance to Grand Central Terminal. Had I been smart enough to bring my camera, I would have taken a picture.
FREE BOOKS: The perks of going to a writing conference is that they give you a tote bag that contains free books. It's a sad fact that you can't keep all of them. (Nothing weighs your suitcase down more than free books.) But there are always a few keepers in the bunch. This year, I was lucky enough to get a hardcover copy of ADRENALINE by Jeff Abbott. I've heard great things about this book. Can't wait to read it.
NO SLEEP TONIGHT: The Grand Hyatt is a lovely hotel. In addition to the view, my room was recently renovated, funky and comfortable. Unfortunately, the doors at the hotel are incapable of closing without making a massive slamming sound. Making matters worse, the interior walls are as thin as wax paper, allowing you to hear EVERY SINGLE SOUND coming from the hallway. This is not a good combination when the large tour group of teenagers in matching blue shirts staying on your floor insist on room-hopping in the middle of the night. Nor when there's a toddler shrieking in the hallway at 2:30 a.m. Why any parent in their right mind would let a toddler emit siren-like wails in a hotel hallway at that hour is a mystery that not even the pros at Thrillerfest could explain.
AUTHOR, AUTHOR: I got to meet/chat/hang out with so many great writers. Some of them — Brad Parks, Lynn Sheene, Sophie Littlefield — have been kind enough to answer the Writing With … questionnaire on this blog. I hope to convince others — Hilary Davidson, Carla Buckley, Alma Katsu, Jennifer Hillier, Emily Winslow, Meg Gardiner, Rochelle Staab, Taylor Stevens — to do the same in the near future. (A special shout-out to Chevy Stevens, Wednesday's featured author, who won the Thriller Award for her debut, STILL MISSING.)
DEBUT BREAKFAST: One of the things that makes Thrillerfest special is that it takes time out each year to celebrate authors who have recently made their debuts. I was lucky enough to be among this year's "class" being honored at the annual Debut Author's Breakfast. This means getting up insanely early to sit on a raised platform and have a ballroom full of people watch you eat while you talk about your book. Because I was nervous (and because I chew like a cow) I skipped the food and just had coffee. But my presentation went off without a hitch, I didn't make an ass out of myself and the audience response was great. A big thanks goes out to author Avery Aames for her great tip about holding the microphone. It helped. A lot.
SHE SLAYED THEM: The keynote speaker during the debut author breakfast was Karin Slaughter. She was gracious, insightful and funny as hell. It was a pleasure to hear her speak about her journey from unpublished writer to international bestseller.
THE FUTURE: It's impossible to go to a writing conference and not get sucked into a conversation about the future of publishing. It's a scary/exciting time of endless possibilities. Most writers just want our books to be read. We're not very concerned about the particulars. And since e-books are on everyone's mind, it was interesting to see demonstrations of two new ways to "sign" e-books. On is Autography. The other is iDoLVine. Both were fascinating to see and have great potential.
MARGARET ATWOOD: Speaking of iDoLVine, one of the people heavily involved in the program is literary legend Margaret Atwood. The author of THE HANDMAID'S TALE, CAT'S EYE, THE BLIND ASSASSIN and dozens more demonstrated the technology. Afterward, I had the pleasure of meeting her in the hallway outside the conference room where the demonstration took place. It was a brief chat — a few minutes at most — and something she has likely already forgotten. But I've been reading her for two decades now, and being able to tell her how much her work means to me was the biggest thrill of this year's Thrillerfest.
Were any of you at this year's Thrillerfest? If so, I encourage you to share some of your stories from this year's fest in the comments section below.