In the Internet age, it has become easier than ever to share likes and dislikes with a whole swath of people. Think Yelp. Or Amazon.com reviews. Or even blogs devoted solely to cool and quirky things. Personally, I love hearing what other people think is cool and worthy of attention. In that spirit, I'm starting a new feature — The Awesome List, which chronicles five things that have rocked my world this week.
The World Series
How epic was Game 6 of the World Series? So epic that this non-baseball fan with no rooting stake in either team stayed up until 1 a.m. to watch the end of this riveting, nail-biting, outlandishly good game.
On Saturday, I dined at a fantastic restaurant in Houston called Reef. The seafood is great, but it's the little things that put it over the top. I love their fried mac and cheese, and the jalapeno jelly that's served with the bread made my tastebuds do the lambada.
Speaking of Houston, the reason for my trip there was a book signing at Murder By The Book. The store is awesome in every way, from the cozy atmosphere to the fact that it's filled to the rafters with crime novels. Added bonus: While there, I picked up a signed first edition of THE NIGHT CIRCUS by Erin Morgenstern.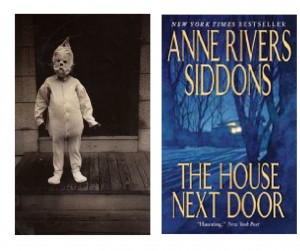 Creepy Costumes
Boing Boing featured a collection of vintage Halloween costumes collected in a book called HAUNTED AIR. The images, in sepia and grainy black and white, are simultaneously innocent and menacing. Those homemade costumes capture the spooky, surreal spirit of Halloween far better than any slasher flick or store-bought disguise.
THE HOUSE NEXT DOOR

On Twitter, I sought suggestions for something scary to read. Author Will Lavender came through, recommending this Anne Rivers Siddons spookfest. Written in the seventies, it's like a fun, chill-inducing time capsule. And yes, it's creeping me out quite nicely.