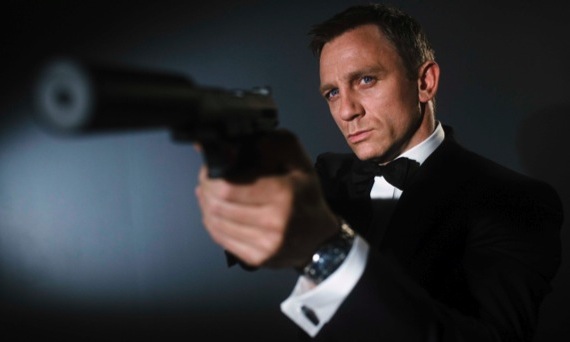 A week or so ago, it was revealed that Skyfall will be the title of the next James Bond movie. Now, I don't put too much stock in Bond titles. They often have nothing to do with the plot and, in some cases, make no sense whatsoever. (I'm looking at you, Quantum of Solace.) So Skyfall is as good or as bad as any other.
Besides, everyone knows the titles are really chosen because they sound cool in a song. Curiously, though, both Casino Royale and Quantum of Solace didn't follow this tradition. Perhaps the producers of the next Bond will do the same, even though Skyfall, if done right, could sound very, very cool.
But in order to do it right, they need the perfect vocalist to bring the song to life. A voice that will stand out over the series' eye-popping opening credits. According to the Internet, always a reliable source, the frontrunners to sing the Skyfall theme are Adele and Michael Buble. Both are fantastic choices, although I definitely prefer one over the other. But who else could sing the hell out of a Bond theme? Here are my personal picks:
Adele
Yes, she's the frontrunner. And rightly so. Other than the late Amy Winehouse, I can't think of a modern voice so perfectly suited for the Bond franchise. Adele could more than sing the hell out of the theme song. Her pipes are capable of blowing it out of this orbit. The only downside is that her recent throat surgery could make her unavailable.
Beyonce
She may not have the brassy power of Shirley Bassey, but Mrs. Jay-Z could certainly do a Bond song justice. Don't believer me? Sit back, close your eyes and imagine it's her and not Carly Simon singing "Nobody Does it Better" from The Spy Who Loved Me. See what I mean?
Radiohead
Speaking of "Nobody Does it Better," Thom Yorke & Co. have been known to do a cover version of the song during concerts. And while it might not sound perfect, you have to admit that something they write for themselves could be a great, eclectic addition to the Bond canon.
Florence + The Machine
This sounds like an out-of-the-box choice until you realize that Shirley Manson and Garbage were tapped to sing the theme to The World is Not Enough in 1999. In my opinion, Florence Welch has a far better voice and, with the right song, she and her group could hit a home run.
Lady Gaga
Oh, boy. Now this could be interesting. If you take away the crazy costumes, electronic gizmos and trademark stuttering lyrics, Gaga still has an incredible voice. But why strip Gaga of what she's known for? I say give her the gizmos and stutter and see what she does with it. Skyf-f-fall, anyone?
Kanye West
Another idiosyncratic artist who, if commissioned to tackle a Bond theme, could either come up with something utterly brilliant or completely awful. Either way, I'd love to see him try.
So those are my picks. Who would you like to see sing the next Bond theme? Sound off in the comments section!