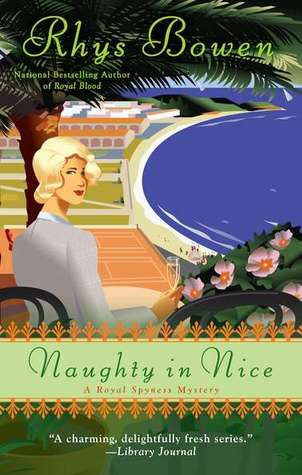 Today, the fantastic Rhys Bowen tackles the Writing With questionnaire. Rhys writes the Molly Murphy mysteries, set in 1900s New York City, and the lighter Royal Spyness stories, about a minor royal in 1930s England. Her latest Royal Spyness mystery, NAUGHTY IN NICE, comes out today. Her books have been nominated for every major award. She has won 11, including Agatha, Anthony and McAvity awards. Rhys is a transplanted Brit who now divides her time between California and Arizona.
Q. Tell us about your book and what inspired you to write it.
NAUGHTY IN NICE is the fifth Royal Spyness novel. Lady Georgie, broke as usual, accepts a daring challenge from Queen Mary — to recover a priceless snuff box from a scoundrel on the French Riviera. But this proves the least of her worries — a stolen necklace, modeling for Coco Chanel, a murder and a
seductive marquis will keep Georgie from enjoying the sun and the casinos.
I started writing this series because I was being pressured to write a big dark standalone novel and I felt the world was too full of darkness. I'm fascinated by the Thirties and how that time mirrors ours, and it is such fun to poke fun at the British class system. Georgie has had some harrowing adventures so I felt she needed a little R & R on the Riviera.
Q. Did you need to do any special research for the book? If so, what's one of the most interesting facts you discovered?
It was exhausting — a whole summer in Nice, all those bistros and different wines. But someone had to do it! Actually, I did work quite hard spending days in libraries, looking at old photographs and maps, and prowling around famous old hotels. I also did a lot of reading about Chanel, who figures prominently in the story. And the most fascinating fact I discovered was that she had put on a fashion show combining the masculine and feminine — tweed jackets borrowed from her lover, the Duke of Westminster, combined with jewelry borrowed by her business partner, Vera Bate Lombardi, from her aunt, Queen Mary. How could I not use that in my story?
Q. Many people are content to just be readers. How did you become a writer?
I've been a writer since the age of four. Living in a pretend world then was natural to me and telling other people about it seemed natural, too. I'm also a reader and I tend to write stories that I can't already find on the shelf and I want to read.
Q. What do you like to do when you're not writing?
With two books a year and a lot of touring for promotion, that isn't often! But I like to travel, to hike with friends, to sketch, to sing, to play my Celtic harp and to spoil my grandchildren.
Q. What are you reading right now?
I'm re-reading Agatha Christie's MURDER IN THREE ACTS because I saw it on television this week and I didn't remember the story as they told it. I hate it when they mess around with books I've read!
Q. If you were stranded on that proverbial deserted island, what five books would
you want to have with you?
Would the one I'm working on right now count?
If not: THE LORD OF THE RINGS (a book I've read over and over since I first discovered it as a teenager)
Connie Willis's TO SAY NOTHING OF THE DOG (to make me laugh and remind me of a civilized time in England)
A.S Byatt's POSSESSION (those poems alone would be worth studying)
THE OXFORD BOOK OF VERSE (so that I could read poems out loud)
And am I allowed THE COMPLETE SHERLOCK HOLMES?
Q. What's your favorite movie?
Out of Africa –so romantic and so visual.
Q. What's your favorite food?
Oysters
Q. Cats or dogs?
Love them both. If I had to pick one it would probably be dogs.
Q. Name one thing that people would be surprised to learn about you.
I once used to sing in folk clubs with Simon and Garfunkel.