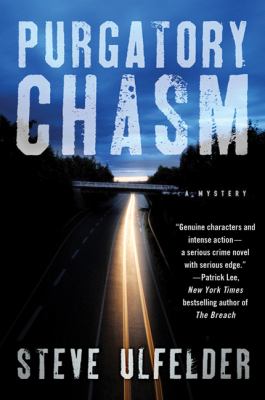 Tackling the questionnaire today is Steve Ulfelder, author of PURGATORY CHASM, which was released by Minotaur Books last month. Steve is the co-owner of Flatout Motorsports, a company that builds race cars, and is an amateur racer himself. Before that, he spent 20 years as a journalist, writing mostly about business and technology, but also doing stories for car magazines and general-interest publications like the Boston Globe.
Q. Tell us about your book and what inspired you to write it.
PURGATORY CHASM introduces Conway Sax, a once-promising NASCAR driver who drank his way out of a job. Conway is now a mechanic who moonlights doing favors — of the rough, often dangerous sort — for fellow members of the Barnburners, the Alcoholics Anonymous group that Conway believes saved his life.
As the book opens, Tander Phigg — a blowhard Barnburner Conway doesn't much like — is asking for help retrieving his classic car from a sketchy repair shop. Conway reluctantly agrees, and gets his head caved in for his trouble. Soon Phigg's body is found hanging from a pipe … and away we go!
Q. Did you need to do any special research for the book? If so, what's one of the most interesting facts you discovered?
Can I admit I'm a slug when it comes to research? I'm a one-Wikipedia-click kind of guy. Having said that, when I look at the book, now I damn near impress myself with descriptions of areas I've never visited, firearms I've never held, etc.
My favorite quote on research comes from Elmore Leonard. He said you can learn everything you need to know about prison from a Sunday-supplement article. Hey, if it's good enough for Elmore …
Q. Many people are content to just be readers. How did you become a writer?
It's always been my only marketable skill! I've wanted to be a professional novelist since I was eight years old. In 2006, after six years freelancing (before that I worked on staff at various magazines), I announced to my wife that I had burned out on journalism and would be splitting my time between the racing company and crime writing. Foolishly, my wife did not leave me. I took a night class in novel writing and wrote the very first (unpublished) Conway Sax book. That landed me an agent, the wonderful Janet Reid.
Q. What do you like to do when you're not writing?
There's the day job at Flatout Motorsports, of course. It's been a long time since I worked on the race cars; we've got young, talented folks who do that and travel all over the country supporting our race teams. But I do back-office and website work.
Then there's family stuff — I have two teenagers. Many weekends, I'm off racing at tracks like Lime Rock Park and Watkins Glen. What else? I'm a slow but enthusiastic runner. I read a lot, see a lot of movies. And I seem to have a weakness for vintage Seiko watches.
Q. What are you reading right now?
Timothy Hallinan's THE QUEEN OF PATPONG. It's fantastic. I will definitely go back and read Hallinan's other Poke Rafferty books. I scored the book at the recent Edgar awards in New York. After the ceremony, you step from the banquet hall and your eyes slam open because there are tables loaded with Edgar-nominated books. My wife and I made hogs of ourselves, and believe me, we weren't the only ones. So in the past few weeks alone, I got to read Steve Hamilton's THE LOCK ARTIST, Laura Lippman's I'D KNOW YOU ANYWHERE; Nic Pizzolatto's GALVESTON; and a few others. Got to love those freebies!
Q. If you were stranded on that proverbial deserted island, what five books would you want to have with you?
My three favorite novels, in order, are Larry McMurtry's LONESOME DOVE, John Irving's THE CIDER HOUSE RULES, and Don DeLillo's WHITE NOISE. These are books I love so much I can hardly express it. I will read them each once a decade until I die.
I also read a lot of nonfiction, especially history and biography centered around the Civil War and World War II. I would bring Shelby Foote's three-volume Civil War history, and let's round it out with William Manchester's Churchill biography.
Q. What's your favorite movie?
The Dirty Dozen. It is the best movie. This is obvious. There is no controversy here.
Q. What's your favorite food?
Ben & Jerry's Phish Phood. Though the older I get, the bigger a toll it takes on my digestive tract.
Q. Cats or dogs?
I'm a cat guy. I've been cleaning litter boxes on a daily basis since 1989. This fact does not impress my cats. However, I love dogs a lot and would like to get one soon.
Q. Name one thing that people would be surprised to learn about you.
In church, I can't sing the hymns because the lyrics inevitably choke me up.