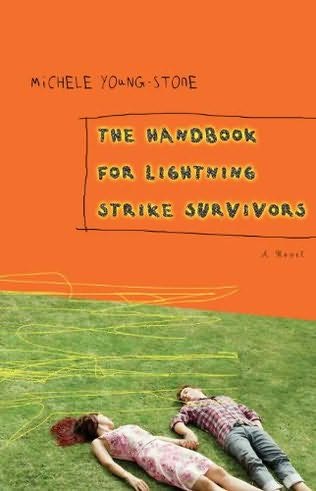 I'm pleased to welcome Michele Young-Stone, whose debut novel, THE HANDBOOK FOR LIGHTNING STRIKE SURVIVORS, was chosen as an "Emerging Author" pick by Target and is being featured in Target stores nationwide. The novel is in the running for The First Novelist Award and Michele is being considered for a fellowship to Bread Loaf. 
Q. Tell us about your book and what inspired you to write it. 
From the title, you might think it was an actual handbook or focused solely on lightning, but it's actually a novel that uses lightning as a metaphor for those things that happen to us that we have no control over. The book tells the stories of two disparate characters, Becca and Buckley, who are seemingly unconnected. It is not a love story. It's a story about how we save one another. It's a book about family and forgiveness, about starting over. It's peppered with zany characters, from a gothic art student to a lecherous professor to a salty sailor. The book is full of reversals, and as Publisher's Weekly and Our State Magazine have pointed out,  the characters are dysfunctional. They're as real as you or me.  
Q. Did you need to do any special research for the book? If so, what's one of the most interesting facts you discovered?
I had to extensively research lightning. Between every chapter there is an excerpt from "The Handbook for Lightning Strike Survivors," which the character Buckley writes. The most surprising fact I learned is that only 50 percent of people struck by lightning seek medical attention. I bet the percentage is actually even lower.  Having been struck, I know that victims are in severe shock, and oftentimes don't go to the hospital because they know that no one will believe them. 
Q. Many people are content to just be readers. How did you become a writer? 
Born to it. As soon as I could write, I started writing stories and poems. I always knew that I wanted to be a published writer. I wanted to make people feel the world as intensely as I feel it. 
Q. What do you like to do when you're not writing? 
Play baseball with my family. Go to the gym. Paint and make collages.
Q. What are you reading right now? 
MIDDLESEX  by Jeffrey Eugenides.
Q. If you were stranded on that proverbial deserted island, what five books would you want to have with you? 
THE WORLD ACCORDING TO GARP, THE TIN DRUM, a book of great works of art, I KNOW THIS MUCH IS TRUE, SULA and ONE HUNDRED YEARS OF SOLITUDE.
Q. What's your favorite movie? 
Rushmore.
Q. What's your favorite food?
Pizza
Q. Cats or dogs?
Dogs
Q. Name one thing that people would be surprised to learn about you. 
I like to play and watch football, college and professional. I coach T-Ball. For some reason, people don't think of me as "athletic."  Perhaps I seem too delicate. (Joke!) Oh, and I like to read US Weekly. It makes me laugh.