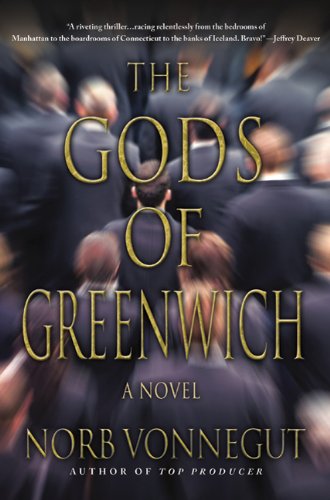 Today, I welcome Norb Vonnegut, who writes thrillers set on Wall Street. His first, TOP PRODUCER, was a featured pick on Today. His latest is THE GODS OF GREENWICH, released last month by Minotaur Books. It explores the dark side of hedge funds and how far one man will go to join the glitterati of money management. A board member with the American Foundation for the Blind, Norb bicycles whenever possible. Visit him online at www.norbvonnegut.com.
Q. Tell us about your book and what inspired you to write it.
I've completed two novels now and am well into a third. All three started with a big idea. In THE GODS OF GREENWICH, I became obsessed with two questions. What would you do to keep up with the Joneses if you run a hedge fund and your life's ambition is to join the glitterati of money management? How far would you go?
But look. I write fiction, not exposés about money management. In THE GODS OF GREENWICH, thriller fans will focus on Rachel Whittier. She's a pretty young nurse with a Texas twang. Rachel is almost adorable — except that she runs around the pages whacking nice people in their seventies. Readers will ask why. And how does she fit into a war between a hedge fund in Greenwich and a really nasty bank in Iceland?
I tell the story through the eyes of Jimmy Cusack, a guy enduring the tough times we understand all too well since 2008. Cusack's company collapses. He falls three months behind in his mortgage. And the bank initiates foreclosure proceedings the day he learns his wife is two months pregnant.
When Cusack joins a hedge fund in Greenwich, he thinks his problems are solved. His cash flow picks up, and life is good. So it seems. The reality is that he just landed in the Bermuda triangle of money management.
Q. Did you need to do any special research for the book? If so, what's one of the most interesting facts you discovered?
THE GODS OF GREENWICH was a great book to research, in part because Greenwich, Conn., is such a lovely place. The town cares about details, from the unique trashcans that resemble squat, doublewide mailboxes to the black lampposts that look like exclamation points for everything perfect.
Inside Two Greenwich Plaza, an office building outside the train stop, there's a statue of two wings mounted on a heavy base. The work is entitled "Pegasus." And because I'm a sucker for mythology, I looked up the genealogy for the winged horse. Here's what I discovered and subsequently wrote:
"Down in the lobby Cusack headed past a chest-high sculpture of disembodied wings. The artist named the work Pegasus after the horse from Greek mythology whose father was Poseidon the god of everything underwater and whose mother was the snake-headed Medusa. Jimmy thought the lineage a fine choice for a building full of hedge funds."
Q. Many people are content to just be readers. How did you become a writer?
I've been telling stories all my life, as a kid at the dinner table, and later as a stockbroker building a business that peaked at $10 billion in assets in-house. I have a million anecdotes: the misadventures of my mother's world-famous shrimp casserole; the hornets that ate my first novel; or the most embarrassing author experience of all time. Writing novels seems like a natural progression.
There are short vignettes woven into all my books. In TOP PRODUCER, you'll meet a stockbroker who takes clients to a strip bar and sees his nanny on stage. And wait until you read about the $1,700/night divorce suite in THE GODS OF GREENWICH or the recipe for Spaghetti Bolognese.
Maybe I should stop here.
Q. What do you like to do when you're not writing?
I bicycle. Rhode Island is a great place to ride. The shoulders along the roads are extra wide, so I don't worry about drivers on cell phones inside their SUVs. Not much anyway. My training loop goes from Narragansett to Wickford, about 27 miles with great ocean views. It just doesn't get any better.
My wife and I once biked 1,500 miles across Europe. We started in Copenhagen and zigzagged our way to the Loire Valley in France. It was one of the greatest adventures of our lives.
Q. What are you reading right now?
Actually, I'm listening to THE FIFTH WITNESS by Michael Connelly. Love it. I've listened to thousands of books on tape through the years, which is one reason I got involved with the American Foundation for the Blind, where I am a member of the Board of Trustees. The AFB was the first organization to make audio recordings, although we sold that business a few years ago. We're about to celebrate our ninetieth anniversary.
Oops, sorry to get off track and plug the AFB. But I care about the organization deeply. Think about all the wonderful hours we spend reading. The AFB makes that experience far more accessible to the visually impaired.
Q. If you were stranded on that proverbial deserted island, what five books would you want to have with you?
Don't shipwreck me without a box of pencils and a really thick, empty notebook. I'd go crazy. Okay, that said, here are my five:
THE LORD OF DISCIPLINE by Pat Conroy
Anything by James Lee Burke, but I'll go with THE TIN ROOF BLOWDOWN
SKIN TIGHT by Carl Hiassen
THE KITE RUNNER by Khaled Hosseini
THE IDIOT'S GUIDE TO GETTING OFF DESERTED ISLANDS.
Q. What's your favorite movie?
Tough, tough question. I love movies. In college I took a course from Alan Trustman, who wrote Bullitt and The Thomas Crown Affair. It was my favorite course of all time.
Where to begin? At various intervals during my life, I would have answered The Great Escape or Cool Hand Luke. With complete conviction, I can also answer The King's Speech, The Godfather, Schindler's List or North by Northwest.
Right now, I'll go with The Departed as my favorite movie. There's just something about tough guys with Boston accents. The cast is terrific — Jack Nicholson, Matt Damon, Leonardo DiCaprio, Martin Sheen. But I think Dignam (played by Mark Wahlberg) is my favorite character in the movie. I like his line about the mushroom school of management.
Q. What's your favorite food?
Spaghetti Bolognese. We whip up a big batch every Sunday night for dinner. We can't afford the recipe I describe in THE GODS OF GREENWICH.
Q. Cats or dogs?
Dogs. There's something wrong about pets that cough up hairballs. My apologies to cat lovers out there.
Q. Name one thing that people would be surprised to learn about you.
I almost hired an inflatable eighteen-foot union rat to picket outside Morgan Stanley, one of my previous employers. Instead, I exercised discretion and vented my frustrations inside the pages of TOP PRODUCER.